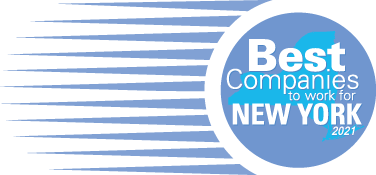 PURCHASE, N.Y., May 21, 2021 – Quorum Federal Credit Union has been named one of the Best Companies to Work For in New York, a recognition that it has received a total of 10 times since 2010. The award was granted to Quorum by the New York State Society for Human Resource Management (NYS-SHRM) and Best Companies Group.
This statewide survey and awards program is designed to identify, recognize and honor the best places of employment in New York, benefiting the state's economy, its workforce and businesses. The 2021 Best Companies to Work for in New York list was made up of 72 companies.
 
"We couldn't be happier to be named one of the best companies to work for in New York for four consecutive years, and a total of 10 times in the last decade, especially after such a challenging year for so many of us," said Bruno Sementilli, CEO of Quorum. "We're so proud of the culture we've achieved at Quorum, and particularly proud of how we were able to carry that culture into a work-from-home environment: through virtual meetings, regular communications from Senior Leadership, and even digital social events, like trivia night. In some ways, after the obstacles we've had to overcome together, we feel closer and more connected than ever before."
To be considered for participation, companies had to fulfill the following eligibility requirements:
– Be a for-profit, not-for-profit business or government entity;
– Be a publicly or privately held business;
– Have a facility in the state of New York;
– Have at least 15 employees working in New York; and
– Must be in business a minimum of 1 year.
Companies from across the state entered the two-part survey process to determine the Best Companies to Work for in New York. The first part consisted of evaluating each nominated company's workplace policies, practices, philosophy, systems and demographics. This part of the process was worth approximately 25% of the total evaluation. The second part consisted of an employee survey to measure the employee experience. This part of the process was worth approximately 75% of the total evaluation. The combined scores determined the top companies and the final rankings. Best Companies Group managed the overall registration and survey process in New York and also analyzed the data and used their expertise to determine the final rankings.
Among Quorum's benefits are: tuition reimbursement and a bonus/commission plan that reward all for contributing to the company's success, a business-casual environment, a flexible work schedule (including a hybrid work model and four-day work-week), a 401k plan (with company match up to 6 percent), a Health Reimbursement Account assists employees with costs associated with the company's medical plan, like deductibles and co-insurance, sizable employee discounts (including mortgage discounts) and the ability to right size PTO by purchasing or selling time.
Quorum's employee value proposition, "A Career that's Good For You," highlights opportunity, flexibility and fun, and empowers employees to realize their full potential, knowing that when that potential is reached, they'll feel fulfilled when coming to work.
All 72 companies will be celebrated at an online event on July 28, 2021.
Quorum Federal Credit Union (www.quorumfcu.org) is an online credit union headquartered at 2500 Westchester Avenue, Suite 411, Purchase, NY 10577. Founded in 1934 as the exclusive credit union for Kraft Foods employees, today the Credit Union serves over 50 companies nationwide (Ogilvy, Avon, Mondelēz International, Philip Morris, etc.) and has members living in all 50 states. Quorum is committed to delivering banking that's focused on its members, and how its products and services can help them live life as they choose. Its mission is to do good by them and for them, by returning profits in the form of competitive rates, low fees, simple rules, clear communication, frictionless delivery, and unbiased advice. It's called: Banking That's Good. For You.™
For more information on the Best Companies to Work for in New York program, please visit www.BestCompaniesNY.com.