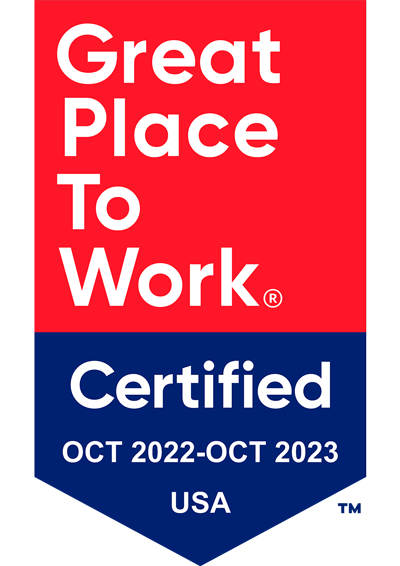 Purchase, NY, October 5, 2022 – Quorum Federal Credit Union, a forward-thinking, technology-based online credit union serving members across the U.S., was recently Certified™ by Great Place to Work®. The prestigious award is based entirely on what current employees say about their experience working at the Credit Union. This year, 95 percent of Quorum's employees said the company was a great place to work – 38 points higher than the average U.S. company.*
Great Place to Work® prides itself on being the global authority on workplace culture, employee experience, and the leadership behaviors proven to deliver market-leading revenue, employee retention and increased innovation. Every year, more than 10,000 companies across 60 countries apply to get Great Place to Work-Certified. Other Certified™ workplaces include: Target, Hulu, Hilton, and American Express.
"Great Place to Work Certification™ isn't something that comes easily—it takes ongoing dedication to the employee experience," said Sarah Lewis-Kulin, vice president of global recognition at Great Place to Work. "It's the only official recognition determined by employee's real-time reports of their company culture. Earning this designation means that Quorum is one of the best companies to work for in the country."
"We couldn't be happier to be Great Place to Work-Certified™," said President and CEO Jeffrey Pachter. "Quorum has long been named One of the Best Companies to Work For in New York—an honor we were delighted to hold—but we wanted to better reflect Quorum's national presence: our employee base, many of whom are now permanently remote in various states, as well as our service to members across the country. As we reviewed national employee survey programs, Great Place to Work® felt like the perfect fit, as employee experience is a top priority for Quorum every day. We owe our continued success to our brilliant team of dedicated employees."
Ninety-seven percent of Quorum employees also said that they were made to feel welcome when joining Quorum, and 98 percent felt as though they can be themselves at work.
Quorum benefits are continuously evaluated and evolved to remain competitive. The latest benefit, a Volunteer Time Off (VTO) policy launched by Pachter earlier this year, allows all in-office, hybrid and fully remote workers to give back to their community during work hours while still getting paid. This adds to the current progressive time-off policy, with paid personal time, birthday time, company-observed holiday time offered, as well as a purchase and sell-back program to help an employee right-size the amount of time they need for the year.
Other Quorum employee benefits include: tuition reimbursement and a bonus/commission plan that reward all for contributing to the company's success, a flexible work schedule (including a hybrid work model and four-day work-week), a 401k plan (with company match dollar for dollar up to 6 percent), a Health Reimbursement Account that assists employees with costs associated with the company's medical plan, like deductibles and co-insurance, and sizable employee discounts (including mortgage discounts).
In addition to top benefits, Senior Leadership empowers employees to evolve along with the financial services industry. The need to change, transform and prepare for the future is a core component of what Quorum calls U.F.O.s (Unwavering Future Objectives) and is ingrained in all employee action.
Learn more about what Quorum offers, and current job postings, by visiting its Careers Page.
*Source: Great Place to Work® 2021 Global Engagement Study.
Quorum Federal Credit Union (quorumfcu.org) is a forward-thinking, technology-based online credit union headquartered at 2500 Westchester Avenue, Purchase, NY 10577. Founded in 1934 as the exclusive credit union for Kraft Foods employees, today the Credit Union serves over 50 companies nationwide including Ogilvy, Avon, Mastercard, Mondelēz International, Philip Morris International, Altria, and Kraft Heinz and has members living in all 50 states. Quorum is banking that is focused on its customers (members, partners, investors and employees) and how its products and services help them to live life as they choose. Its aim is to do "Good" by and for its customers. We call this mission Banking That's Good. For You™.
Great Place to Work® is the global authority on workplace culture. Since 1992, they have surveyed more than 100 million employees worldwide and used those deep insights to define what makes a great workplace: trust. Their employee survey platform empowers leaders with the feedback, real-time reporting and insights they need to make data-driven people decisions. Everything they do is driven by the mission to build a better world by helping every organization become a great place to work For All™.
Learn more at greatplacetowork.com and on LinkedIn, Twitter, Facebook and Instagram.