Romance scams are all over the internet and can be difficult to spot. While the data for 2022 is not yet available, according to the FTC, Americans lost a collective $547 million to romance scams in 2021.
There are many safe and happy relationships that began on dating sites, but, if you're going to use them, you would be wise to practice a few precautions.
How romance scams play out
In a romance ruse, a scammer will create a bogus online profile and attempt to connect to singles on dating apps and websites, as well as through social media platforms. After a connection is formed, the scammer will work to build up the relationship with the victim, calling and texting often. Once the scammer has gained the victim's trust, the scammer will spin a sorry story and ask the victim for money.
The scammer may explain that they cannot meet in person because they are currently living or traveling outside the United States. They'll claim to be a doctor working for an international organization, a blue-collar worker in the middle of a construction project or to be part of the military and currently serving overseas. They may ask for money to help cover travel expenses, pay for medical treatment, cover customs fees at the airport or to pay for a visa or other official travel documents.
The scammer will ask for payment via wire transfer or prepaid debit card. Once they've received the funds, they will disappear. Alternatively, the scammer will ask their "date" to share personal financial information and then go on to empty the victim's accounts.
How to spot a romance scam
If you're in the market for a new date and you're hoping to meet someone online, look out for these red flags:
Profile is too good to be true. If a single's profile has unrealistic credentials, including a magazine-worthy photo, you're likely looking at a scam.
Single rushes into the relationship. If the contact comes on too strong, too fast, it may be a scam.
Single asks you for money. Don't believe a money-starved story of someone you just met online, especially if they start asking you to help them out. Whatever the sob story, it will have three key elements. One, it will be couched in terms of love or relationship advancement. Your new squeeze may make a sudden confession of love first, or pressure you by saying you need to prove your love. Two, there will be a specific reason why the money must be transferred using an insecure method, like Western Union. The scammer may not have a checking account, or may not have time to wait for a check to clear. Third, there will be a significant urgency. You will have to decide right then whether or not to help, and not helping will be the end of your budding romance.
Good luck coincides with the end of your online dating subscription. Many sites offer a free trial before requiring members to pay for a costly subscription. Unscrupulous companies will have employees pose as potential matches and send messages to customers who are nearing the end of that free trial period. These messages will hint at possible romance, but move just slowly enough that the customer must pay the subscription fee to continue receiving them. Once the money's been paid, the messages stop. Other companies create fake profiles to artificially inflate the number of "available" matches near you.
Keep dialogues going with people you may be interested in talking to and find another way to communicate with them. Consider creating a dating site-only email address that contains very little information about you (other than your first name) and providing that to potential matches if your subscription is about to expire.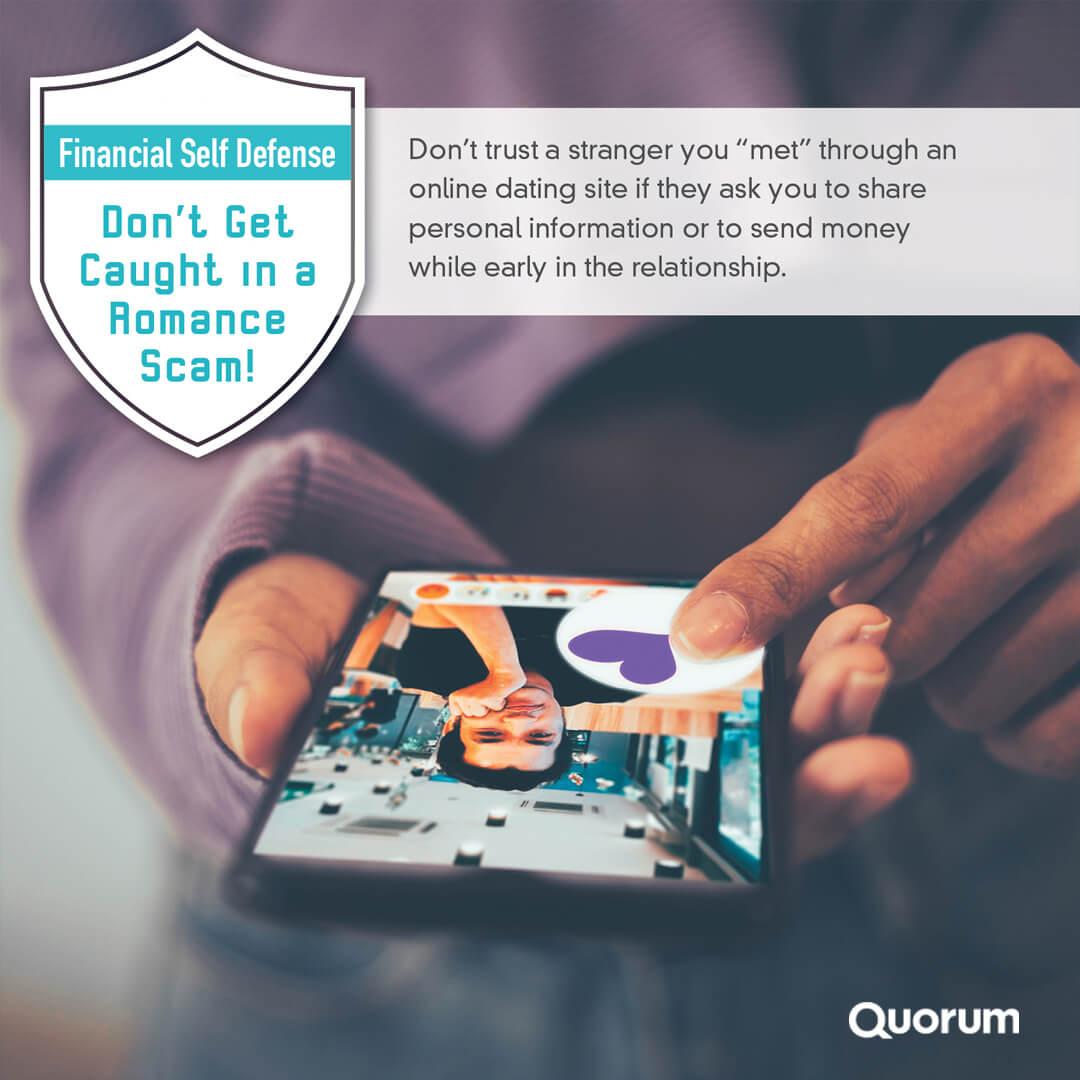 How to play it safe online
Avoid falling victim to romance scams and similar ruses by following basic online safety rules.
First, never share personal details online with anyone whose identity you cannot verify. This includes all financial information, credit card details and personal information that can be used to unlock a password on any of your accounts.
Second, only visit secure sites and keep all the settings on your social media pages private. Never engage in conversation with a stranger who reaches out to you on a platform you've just begun using, or who sends you personal texts or emails you without any prior communication.
And never ever send money to anyone you just met online!
An important note about your privacy
Digital technology has made it easier than ever to share pictures with people all over the world. This is wonderful for sharing your vacation with friends from school or showing off your child's art to proud grandparents. It's also enabled some new romantic norms. Many people in long-distance relationships choose to use the internet to enable their intimacy, which has exposed many to new dangers.
Risqué pictures or messages can be used as blackmail material. Scammers may threaten to make your private messages public unless you pay them or give them personally identifiable information. Sadly, the law is not on your side in situations like this. It's not illegal for people to make public the correspondence you sent voluntarily.
The best advice is to avoid sending explicit material to anyone you have any reason to distrust. Also, don't pay so-called image removal fees. The FBI reports there's no evidence to confirm that scammers actually do remove information after they've been paid to do so.
If you suspect a romance scam
If you believe you've been targeted by a romance scam, take these steps to avoid further damage:
Research the name on the profile to see if the details check out. You can also use an online background checking tool, such as BeenVerified or TruthFinder, to verify the credibility of the profile. You can also visit online resources such as RomanceScams.org. Victims and near-victims share their experiences there and you can compare notes.
Do a reverse-image search of the profile picture to see if it's a stock photo or an image that was plucked off the internet. You can also ask the contact to share a current photo of themselves.
If your research confirms your suspicions, stop all communication with the scammer immediately. Block the scammer's number and flag their emails as spam. If you've already paid a romance scammer with a prepaid gift card, call the company that issued the card to ask them to refund your money.
Report the scam to the FTC. It's also a good idea to alert the website or app that the scammer is using. You may also consider warning your friends about the scam.
Dating sites are like any other place on the internet. They can do a great deal of good, but you'll want to be careful about how you use them.