The biggest shopping month of the year is here! With Black Friday deals running for as long as the entire month of November and Cyber Monday giving the internet a chance at boasting super-low deals, too, 'tis truly the season to save. Before you start charging up a storm, though, keep in mind that not every Black Friday deal is really all it's cracked up to be. Some purchases should wait until December (or until after the holidays have passed). Lucky for you, we have the info you need to score the best deals this month (and beyond). Here's what to buy and what to skip in November.
Buy: headphones and audio gear
Tune into your favorite holiday jams with a pair of state-of-the-art headphones bought at a bargain price. Music gear is marked down in November, with sales on all things audio beginning as early as late October and lasting through Black Friday near the end of November.
Skip: winter clothing
The winter shopping season is just getting started, so you won't be seeing deals on winter clothing just yet. This applies to winter outerwear, too; November is not the best time to shop for that overstuffed parka or warm woolen overcoat. Unless you absolutely need it now, wait another month or two before stocking up on cold-weather wear for steep savings.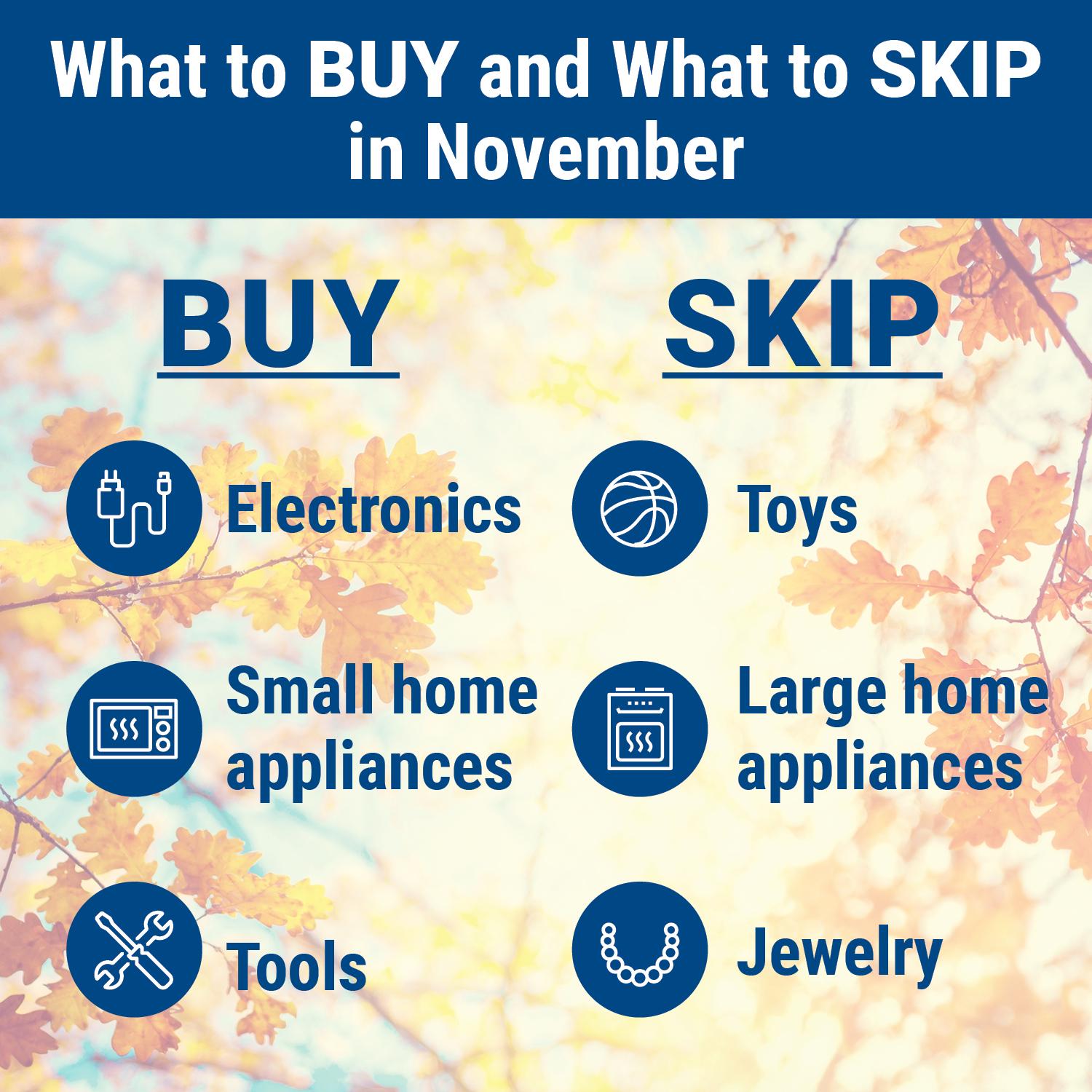 Buy: personal care items
Look your best this season without spending a fortune. You'll find personal care and grooming items like razors, hair dryers, electronic toothbrushes and more marked down in November. Treat yourself to new products for the holidays, or stock up on favorites you can use all year.
Skip: toys
You may be eager to cross some gifts for little ones off your list, but you won't find many deals on toys this month. Instead, wait until the calendar gets closer to the holidays to purchase toys and games at lower prices. Of course, you'll risk finding some of the hotter toys of the season all sold out if you choose to wait, but for big savings on classic playthings that never go out of style, it's best to wait.
Buy: electronics
Marked-down electronics give Black Friday its fabulous name. You can check out stores and sites of major retailers for discounts on large and small electronics from Nov. 1 through the end of the month, though the best prices will only be available at Black Friday sale events. If you miss out on these marked-down prices, you can also find Cyber Monday electronics deals online.
Skip: jewelry
This is not the month for sparkly purchases, as most diamond and gold jewelry will be retailing at full price in November. Choose another holiday gift for a special someone and wait until the second half of February, when jewelry prices plunge up to 80%, to buy a beautiful new piece that you can save for a celebration, holiday or a just-because gift.
Buy: gaming consoles
Major retailers are competing for gamer bucks this month, so expect to see the best bundles with the hottest games at bargain prices in November. Surprise the gamer in your life with a new console and/or trending games, or indulge your own hobby with new gear and games.
Buy: small home appliances
If you need a new slow cooker, you want to spring for an Instant Pot or you need another kind of small home appliance, this is the month to buy it. Black Friday famously features super-low deals on small home appliances for the kitchen and beyond. Pick up a new vacuum cleaner, microwave, food processor and more at slashed prices in November!
Happy shopping!